friends-of-mansion.jpg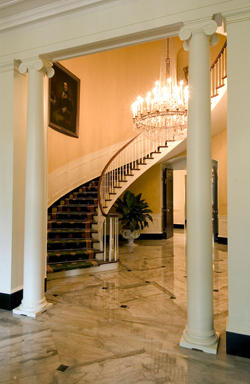 The Georgia Governor's Mansion houses one of the nation's finest collections of Federal Period furnishings.  Despite constant and meticulous upkeep, and although several of Georgia's governors have refurbished and added pieces to this permanent collection, over four decades of use have taken a toll; some pieces need extensive repairs or replacement.
In May 2004, Friends of the Mansion, Inc., a non-profit 501 (c) (3) corporation, was created to solicit and accept charitable gifts and bequests for the restoration, maintenance and preservation of the Georgia Governor's Mansion and its furnishings.
Through the generous donations from the citizens of Georgia, Friends of the Mansion is able to take care of these special needs at the Governor's Mansion without the use of State funds. 
Friends of the Mansion, Inc. is managed by a board of directors, with the First Lady serving as the chairwoman.  The directors work closely with the statutorily created nine member Georgia Fine Arts Committee, which has the task of determining which pieces should be replaced or refurbished.
The Governor's Mansion houses many valuable books, many of which are rare first editions by Georgia authors such as Margaret Mitchell. Under the supervision of the Georgia Public Library Service (GPLS), the collection has been inventoried and catalogued. GPLS continues to assist in the maintenance of the collection.
More information on the Friends of the Mansion can be found here.