This room is used for greeting official visitors and for photographs with the Governor and First Lady.
The pair of wall sconces on the wall are gold gilt gesso and wood with ebonized Egyptian heads. English (circa 1818).
The mahogany breakfront was made in England (1780). Breakfront means the center section projects beyond the sections on either side. The dessert service inside the breakfront is Crown Derby china manufactured in Derby, England (circa 1795).
The two marble top pier tables along the far wall are mahogany (1815). On top of the tables are a pair of Chinese pistol handled vases (1780-1800).
The portraits located above the tables are by painter John Neagle. He is mostly known as a portrait painter in the first half of the 19th century. The portraits are of Naval Lieutenant and Mrs. John Marston in 1830. He served in the Navy during the War of 1812, Mexican-American War and American Civil War. He was eventually promoted to Rear Admiral before retiring.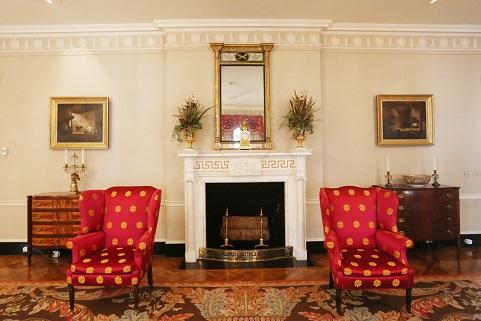 The two console tables on the far right wall are attributed to Charles Lannuier, a French-born cabinet maker who came to America in 1803. New York (1815). 
On top of the tables are gilt bronze Argand lamps. They were a type of oil lamp invented in 1780 by Aime Argand in France. New York (1820).
Above the two console tables are a pair of bull's eye girandoles with convex mirrors. New York (1815).
The paintings on each side of the fireplace are by Alvan Fisher. He was one of America's pioneers in landscape painting (1830).
The fireplace mantle is Italian marble. It was carved in England (1790).
The bronze clock is of George Washington made in France (1816). The inscription says, "1st in War, 1st in Peace, 1st in the heart of his countrymen."
The sofas are attributed to Duncan Phyfe (1815), one of America's leading furniture makers in the 19th century (Federalist period, approximately 1789-1823).
On either side of the sofa are a pair of gilt bronze caryatid candelabras lamps. The word Caryatid originates from Greece and means female statue serving as an architectural support. Single female statue in dark patina. Italy (circa 1795).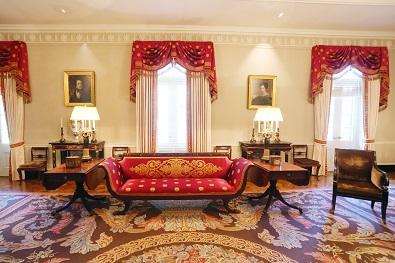 The rug is a replica of an original Aubusson tapestry. The city of Aubusson, located in central France, is famous throughout the world for its productions of tapestries and carpets since the 14th century. This replica was made by Lacey Mil of Fairmont, Ga.
The window treatment and the upholstery is Scalamandre silk. Scalamendre is one of America's most prestigious manufactures of traditional textiles. They are famous for their work at the White House. First Lady Jacqueline Kennedy commissioned the company to help restore the White House furniture in the early 1960's. Subsequent refurbishments at the White House over the years used scalamandre fabrics. Many of the Georgia mansion's furnishings were recovered or remade during the Sonny Perdue administration (served 2002-2010) through the efforts of First Lady Mary Perdue.