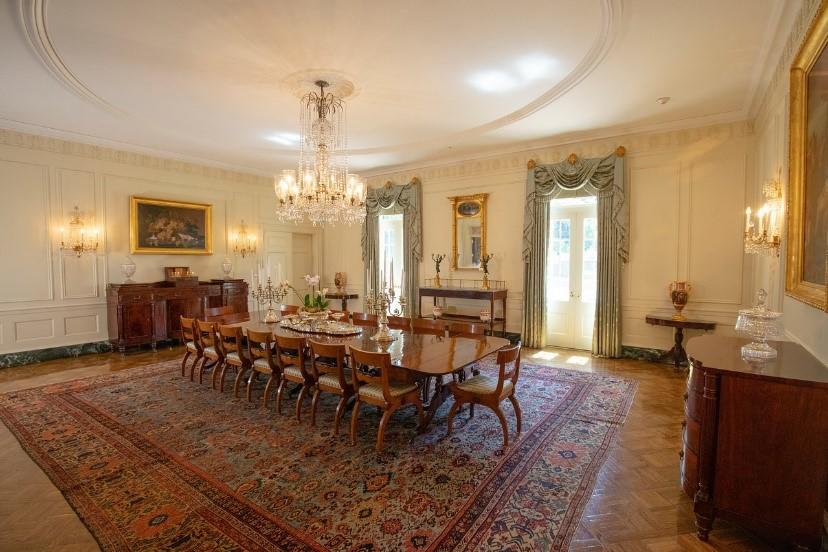 The State Dining Room is used regularly for meetings as well as official state breakfasts, luncheons, and dinners.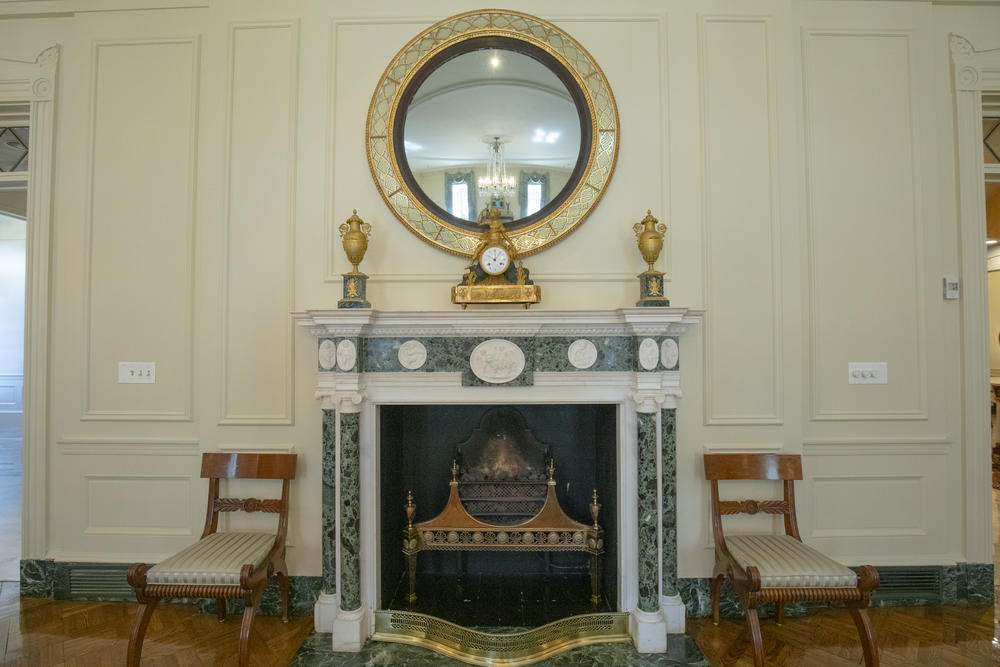 To the left of the entranceway, there is a fireplace with an Italian marble mantle, which was carved in England circa 1750. Atop the mantle is a set of decorative objects that is French gilt bronze from around 1805. Above the mantle, there is a convex bull's eye mirror, which originated from Ireland in 1810.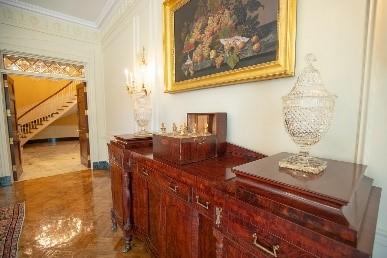 The mahogany sideboard located along the far wall to the left is attributed to Henry Connelly, a Philadelphia cabinetmaker during the Federalist period, circa 1815. On top of the sideboard are two cut glass covered urns from England made around 1810. Also, on the tabletop is an English George III Cellaret, a traveling beverage cabinet, made of mahogany and pine circa 1800.
Along the far wall are two mahogany card tables attributed to one of the premiere Federalist period furniture makers, Duncan Phyfe. The card tables were built circa 1810. On top of the card tables are a pair of urns called Sevres. They are name for the Paris, France suburb where they were crafted around 1810.
The Federal marble top serving table, located along the far wall is attributed to Charles Lannuiner and was built around 1805. He was a French born cabinet maker who came to America in 1803. On top of the table are two 1815 French empire bronze candelabras of winged women candleholders. Above the table is an American-made Federal period eglomise mirror that was made circa 1818. The panel depicts the celebration of peace.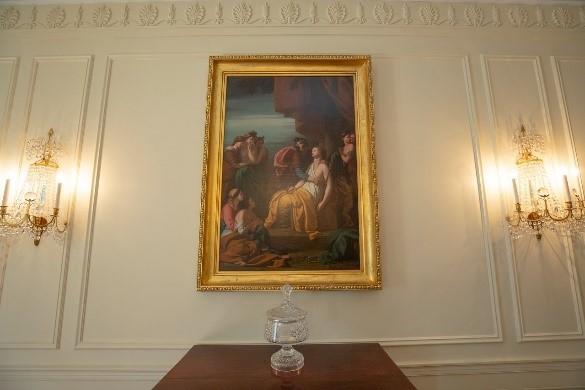 Along the wall to the right is a mahogany bow front chest from the Federal period. It was built in Philadelphia in 1815. On top of the chest is a Waterford crystal compote etched with Georgia's state seal. It was gifted to the state in 1983 by Rich's Department Store to commemorate the 250th anniversary of the Georgia colony established in Savannah in 1733.
Above the chest is an oil painting that is signed and dated by the artist, Benjamin West, 1763. The painting is called "The Preparation of Psyche" of "The Stolen Kiss." West was born in Pennsylvania. As a child, Native Americans taught him how to make paint by mixing clay from the riverbanks with bear grease in a pot. This painting is one of the most valuable pieces in the Governor's Mansion collection.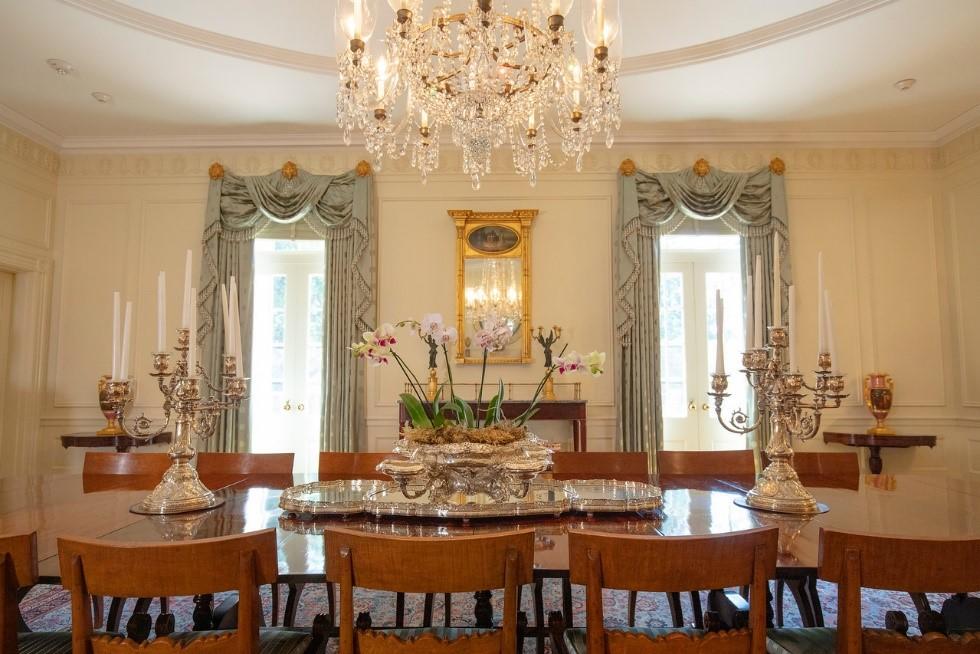 The Federalist table in the center of the room is mahogany. It is described as an accordion table for its ability to expand or subtract depending on the number of guests. It was built by Boston furniture maker, John Seymour, circa 1810. On the table are two Gorham silver candelabras and trays that are part of the USS Georgia collection. The chandelier hanging above is Waterford and was made around 1800. The carpet is a 20th century Persian rug.
Click the link below to continue into the circular staircase hallway.