Due to the First Lady's efforts, all of the books in the mansion have been organized and cataloged using the Dewey Decimal system. The books in this room are mostly about history.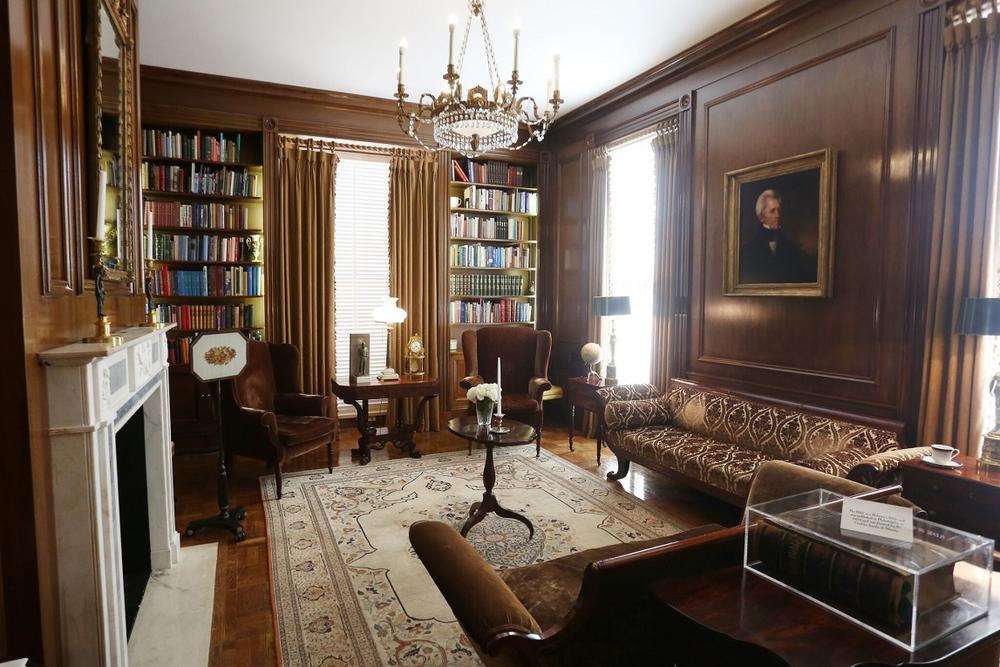 The First Lady designated this room as "The President's Room" because of the presidential portraits.
The wall hanging of George Washington is a needlepoint portrait (circa 1875). It is of General Washington at the Battle of Trenton, New Jersey and is copied from a John Trumbull painting. Trumbull was an American artist during the Revolutionary War and is known for his historical paintings.
The giltwood chandelier is English (late 19th century). The rug is Persian (circa 1875).
The mirror over the fireplace is American (circa 1800). The oval at the top is handpainted and depicts Hermes, the messenger of the Greek gods.
The fireplace mantle was carved in England (1785). The marble originates from the city of Carrera, Italy – the northernmost tip of modern-day Tuscany (central Italy).
The fire screen is a George III English needlepoint. It dates back to 1800 and is in its original form.
On the other side of the fireplace is a portrait of James Madison, the fourth President of the United States (Circa early 1800s).
The mahogany card table was made in Philadelphia (circa 1815). It has legs carved in the shape of fish. This table once belonged to the family of George Walton, the fourth governor of Georgia and one of Georgia's three signers of the Declaration of Independence.
On the card table is a replica of the statue of Jimmy Carter located on the Georgia State Capitol building grounds. Jimmy Carter was Governor of Georgia from 1971-1951 and the 39th President of the United States (1977-1981).
Also on the table is a decorative gilt bronze and steel mantel clock. France (1870).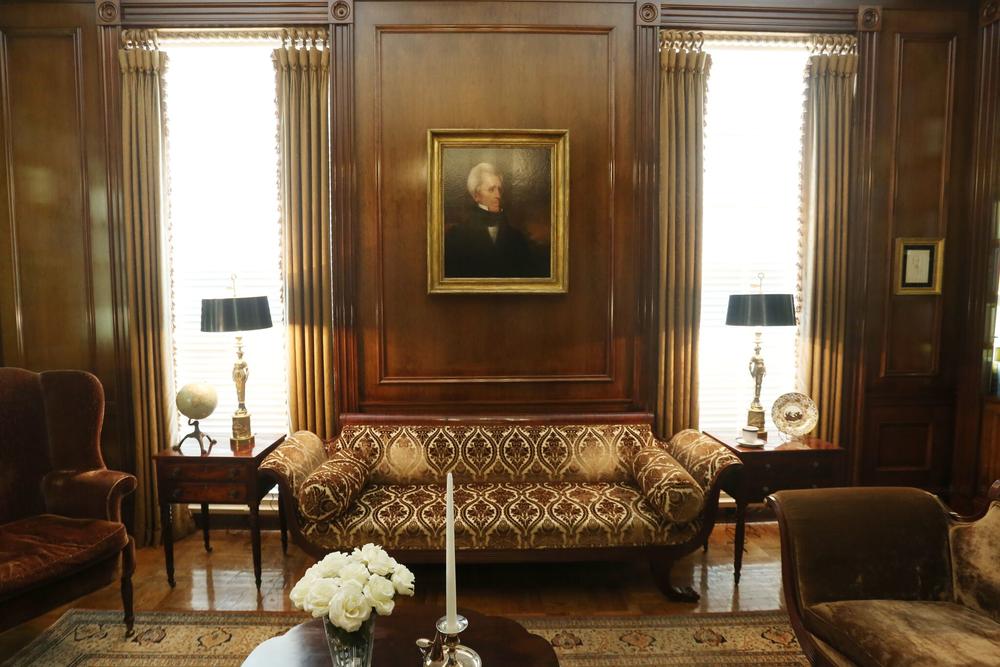 The painting over the sofa is of Andrew Jackson, the seventh President of the United States. It was painted by Ralph Earle (known as the "court painter" to President Jackson) (1830).
The gold-framed pen and ink portrait next to the bookcase is of William Harris Crawford (circa 1850). He was a candidate for President of the United States from Georgia in 1824. Crawford County and Crawfordville, Ga. are both named for him.
On the side table is a replica of a teacup and saucer from President Theodore Roosevelt's White House china. Georgia has a unique connection to Theodore Roosevelt, 26th President of the United States. Historic Bulloch Hall, located in Roswell, Ga. is the childhood home of Roosevelt's mother – Martha "Mittie" Bulloch.
The Bible is a Holman's Bible and was published in Philadelphia (1879).
The rest of the furniture is Federal Period mahogany (approximately 1789-1823).