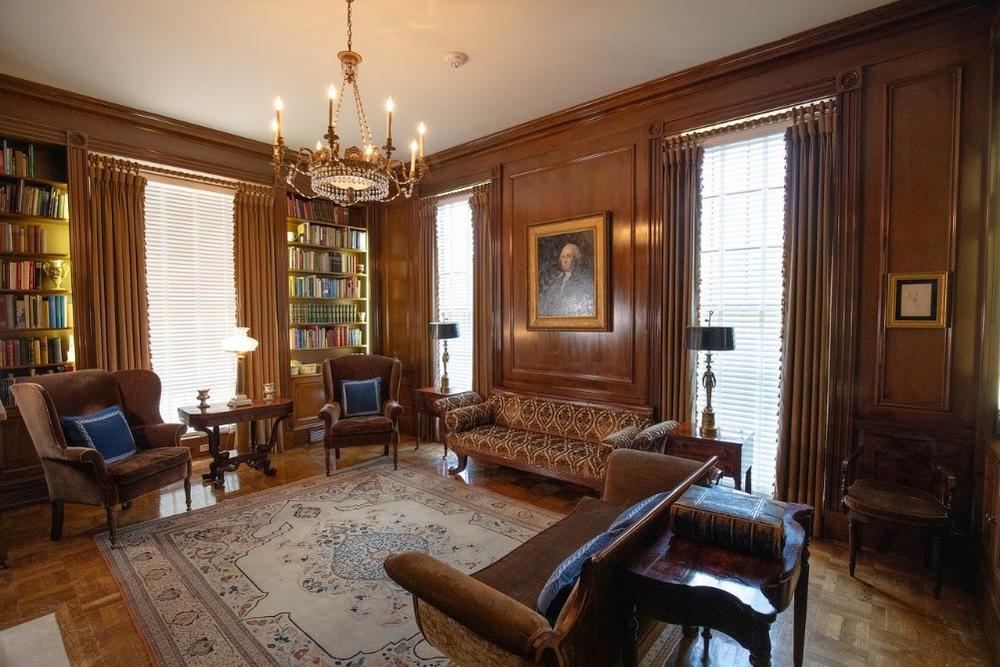 Turning right from the Entrance Hall, we head towards the Library. Just before you enter the Library, there is a framed needlepoint portrait of George Washington on the left, stitched in 1875. It captures General Washington at the Battle of Trenton in New Jersey and is copied from an original John Trumball painting. Trumball was a Revolutionary War veteran and a notable American artist during this period. 
As you enter the room, you will see two walls with built-in bookcases. All the books in the Governor's Mansion are organized by the Dewey Decimal System.  The books located in the library are primarily about Georgia's history. Interestingly, this collection has detailed history books concerning most of Georgia's 159 counties.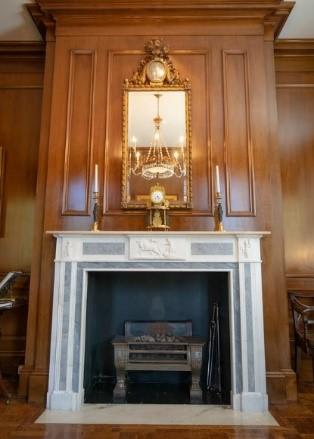 On the left, there is a fireplace with a marble mantle, which was carved in England around 1785. The marble originated from the City of Carrera in Italy, located in the northernmost tip of modern-day Tuscany in the center of Italy. A mirror made in America hangs above the fireplace. The oval at the top is hand-painted and depicts Hermes, the messenger of the Greek gods. The clock, on top of the mantle, is of the French Egyptian revival style and contains bronze, brass, and steel. It was crafted in the early 19th century. Two candelabras candlesticks sit on either side.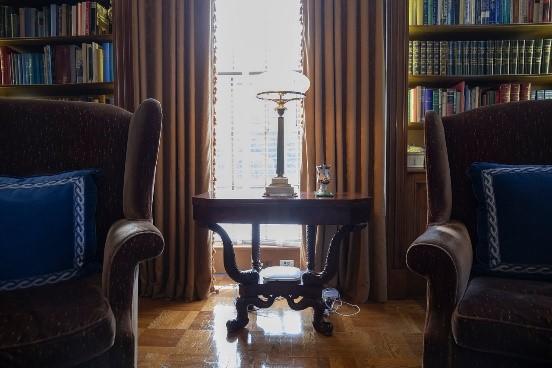 The mahogany card table centered between the two bookshelves has legs carved into the shape of fish and was made in Philadelphia around 1815. It once belonged to the family of George Walton, the fourth Governor of Georgia. Walton was also one of Georgia's signers of the Declaration of Independence. The table holds an astral lamp from the mid-19th century, which was constructed to ensure no shadow is cast on the table.
To the right, there is the Federalist mahogany sofa placed between a pair of French gilt bronze candlesticks that were mounted to serve as lamps around 1830 to 1850. Above, there is a portrait of George Washington, the first President of the United States.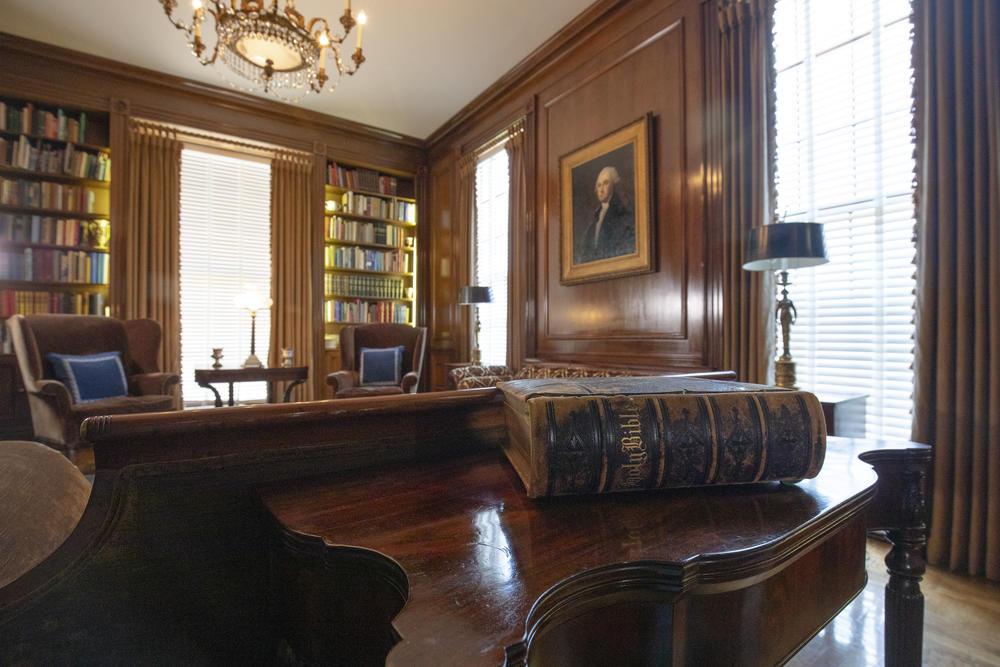 The pictured Bible is a Holman's Bible from 1879, published in Philadelphia, and is positioned on a table close to the back bookshelves near the door.
The ornate giltwood chandelier hanging in the center of the room was made in England in the late 19th century. The intricate Persian rug covering the floor is from approximately 1875. The remaining pieces of furniture in this room were crafted with Federal period mahogany between the 1780s to the 1820s.  
Click the button below to continue to the Guest Bedroom.