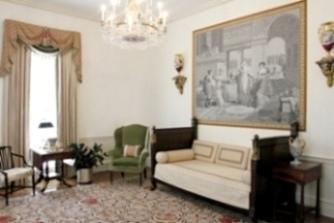 An English pair of regency black lacquer side chairs sit to the left (circa 1800-1810).
On the wall is "Painting of a Seated Woman" oil-on-board. Originally from Savannah (circa 1820).
The display of the porcelain bird and flower are made of English bone china. The Garden Club of Georgia presented this piece to the mansion in the late 1980s. The brown thrasher is Georgia's official bird and the Cherokee Rose is the state's official flower.
The basin stand supporting the bone china piece is mahogany and attributed to the School of William Hooks of Salem, Massachusetts. (circa 1815)
The desk was made by George Applewhite (renowned cabinet maker of the 18th century) and is made of mahogany veneer on oak panels. English (circa 1800).
Above the desk is a giltwood and gesso convex mirror. English (circa 1800).
The wall clock is from France (circa 19th century).
In front of the window is a Federal period mahogany Pembroke table that is attributed to French-born cabinetmaker Charles Lannuier who came to America in 1803. New York (circa 1810-1819).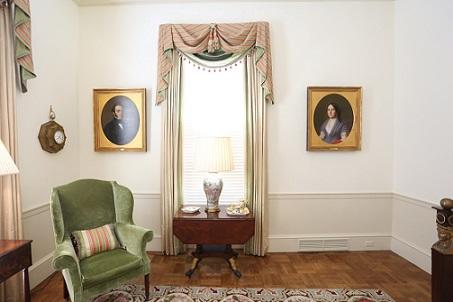 The portraits on each side of the window are of Mr. and Mrs. Rowley, a New York couple (paintings not dated). The painter, American John Vanderlyn, helped introduce the neoclassicist style to the United States. He was a protégé of Aaron Burr, Vice President of the United States under Thomas Jefferson. He was also the first American painter to study in France rather than England.
On the wall is a panel called "the Preparation of Psyche." French (circa 1850). It shows classically draped women in a Greek temple interior. The drawing is enclosed by an ochre and brown bellflower border.
On either side of the wallpaper panel are two hand-painted porcelain urns. Paris (circa 1820). They are supported by giltwood and gesso eagle brackets. Philadelphia (circa 1800).
The alcove bed – made of mahogany – is another piece attributed to Charles Lannuier. New York (circa 1815). It is in the Franco-Egyptian revival style that makes use of the motifs and imagery of ancient Egypt. Enthusiasm for this style of furniture was created by Napoleon's military activates in Egypt.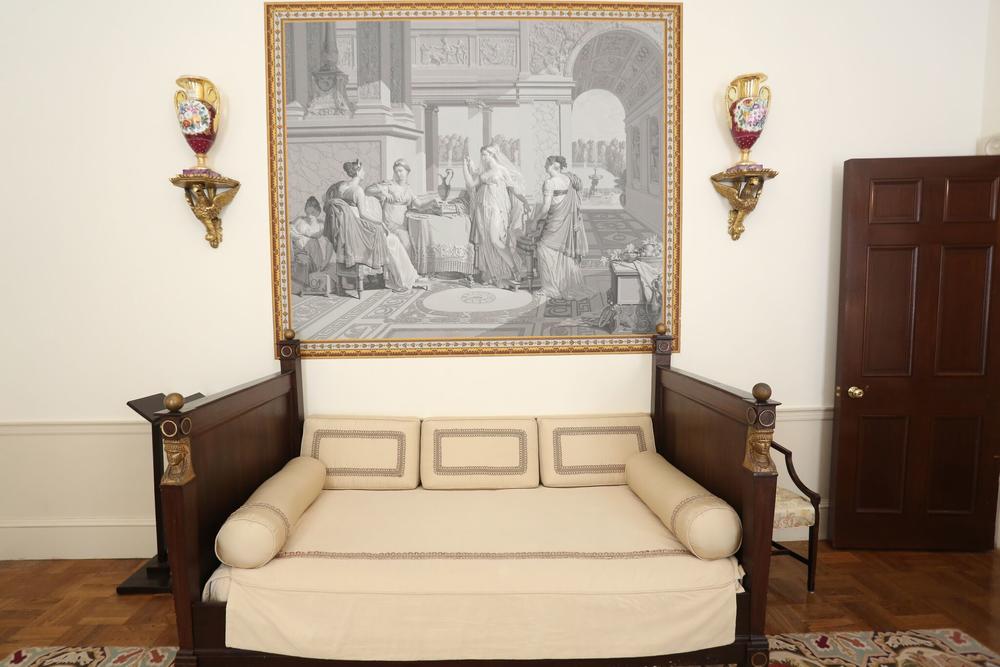 The chandelier is gilt bronze and crystal. Austrian or Swedish (circa 1800).
The rug is a custom handmade needlepoint (100% wool) and is a replica of the original English needlepoint.