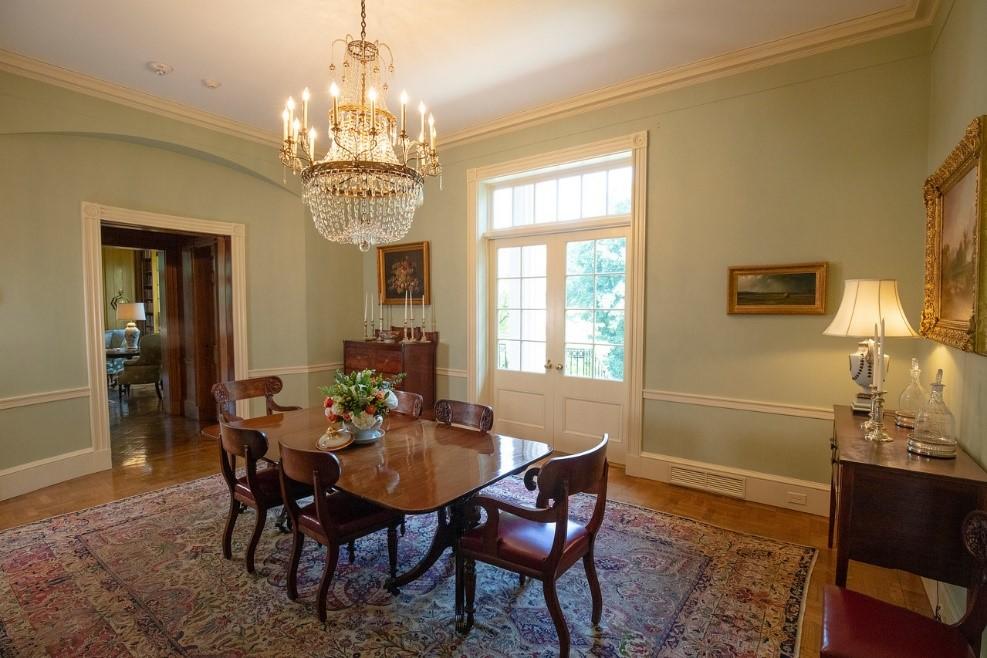 Heading to the very back of the Governor's Mansion, we enter the Family Dining Room.
This room is used for small functions and family meals. This is the First Lady's favorite room for hosting meetings.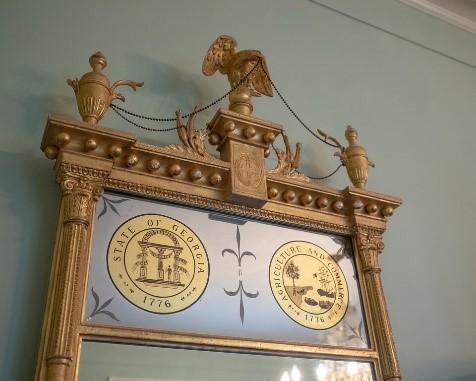 Located on either side of the entranceway, there are two reproduction Neo-Classical-style mirrors. The mirrors have state seals positioned at their tops and highlight Georgia's #1 industry, agriculture. Supporting and promoting Georgia's farm families is one of the First Lady's initiatives. Beneath each mirror, there are American made Federalist mahogany servers from the 1800s. Located atop are a Chinese punch bowl from 1780 and a 19th century mahogany box for canisters.
Along the wall to the left is a mahogany chest of drawers from 1820. Atop is a Chinese punch bowl from 1785 and six English silver-plated candlesticks made in the 19th century.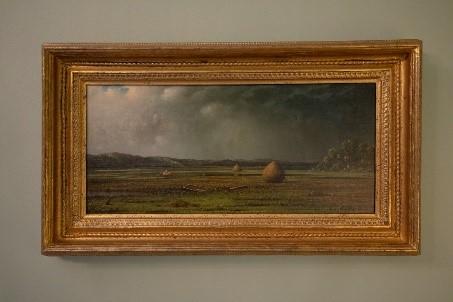 The painting of the haystacks, located on the right, is by Martin Heade in 1850. Heade was associated with the Hudson River School for landscape painters. This painting is one of the most valuable pieces of art in the Governor's Mansion.
The sideboard furnishing, along the wall on the right, is made of walnut, southern yellow pine, and poplar. It was crafted in 1800. This piece was made in Georgia and happens to come from the First Family's hometown, Athens. Atop this Georgia piece are two decanters from Ireland, made in 1810. There is a Chinese porcelain pistol-handled urn also on top. Above, the 1820 painting is of the Berkshires located in western Massachusetts. The artist, Thomas Doughty, was one of the first Americans to specialize in landscape painting. He was a member of the Hudson River School, an art movement centralized around landscape painting.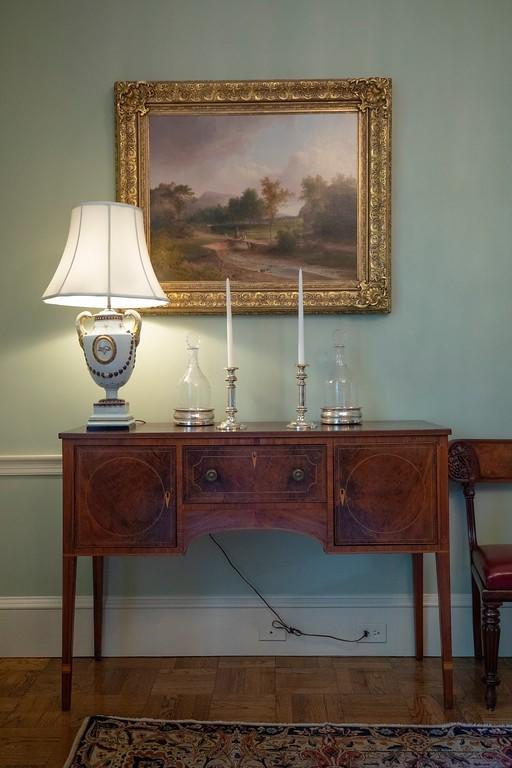 In the center of the room, the dining table is a mahogany double-pedestal piece from the Federal period circa 1800. Atop is a Chinese bowl and stand, holding beautiful flowers. The chairs surrounding the table are from the Federal period and have a carved grape and vine motif, made between 1815 and 1820. The chairs were previously owned by Jim Williams, an antique dealer in Savannah. He was the subject of the non-fiction book, "Midnight in the Garden of Good and Evil." The chairs are cushioned and upholstered with leather.
Above, the gilt bronze chandelier is French and from 1810. Below, the rug is Persian and was created between 1950 and 1975.
Click the link below to continue to the Governor's Mansion Grounds.