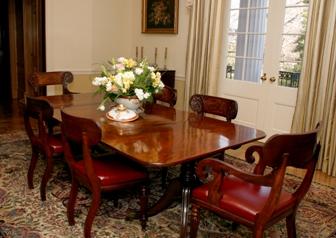 This room is used for small functions and family meals. 
Along the wall is a mahogany chest of drawers. It was made in New York and dates back to 1820. Above the chest is "Fruit Still Life" by Severin Roesen. Roesen was German-born and came to America in 1848. He became one of America's preeminent still life painters.
The drapes are Scalamandre Federal period (approx. 1789-1823) reproduction stripe fabric.
The painting of the haystacks on the far wall is by Martin Heade (1850). He was associated with the Hudson River School for landscape painters. It is one of the most valuable pieces of art at the mansion.
The sideboard is mahogany and dates back to 1790. This sideboard is the only mansion piece made in Georgia (Athens).
The painting above the sideboard is of the Berkshires (western Massachusetts). Thomas Doughty was one of the first Americans to specialize in landscape painting (1820). He was a member of the Hudson River School that taught landscape painters.
The dining table is a mahogany double pedestal piece from the Federal period (circa 1800). The chairs are mahogany and are from the Federal period. Notice the carving of the grape and vine motif. Philadelphia (circa 1815-20). Jim Williams, an antique dealer in Savannah owned the chairs at one time. 
The gilt bronze chandelier is French (circa 1810). The rug is Persian (circa 1950-1975).